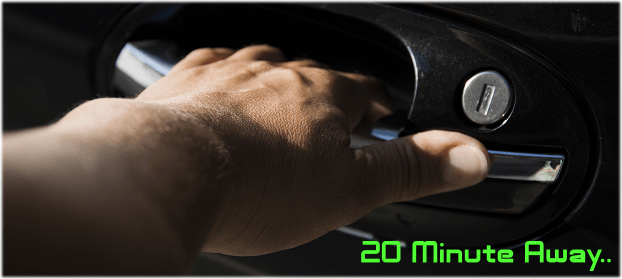 Your day won't proceed as planned if you don't know a fast car lockout service near Charleston, SC. Keys locked in the car and don't know who to call? No one likes to wait too long for anything. That's why our technicians unlock car doors and trunks to all kinds of vehicles. Rapidly upon request. There will be no dilly-dallies because we will be there to rescue you. Our mobile squad can get to you in and around Charleston, SC. Usually, they will be at your service within 20 minutes of your first call! We are open 24 hours a day, 365 days of the year, including weekends and all public holidays! You will never regret hiring us! So contact your vehicle lockout pros in Charleston for complete satisfaction!
Rapid 30-Minute Car Lockout Assistance!
From our experience, 95% of the time, people require a Charleston, SC car unlock service, and it's some emergency. Since that's the case almost every time, we rank those auto lockouts as a top priority. Ten minutes doesn't seem much when you want a car lockout aid that's high-quality, quick, efficient, and affordable. But it means the world to a customer standing next to his car in the rain, waiting for someone to unlock it. As Charleston, SC auto unlocking service of choice, we promise to get you back on the road fast, safe, and sound. We must maintain our strong reputation by popping any lock within 30 minutes of your demand!
100% Mobile in Charleston, SC Metropolitan Area!
Our car lockout crew is a fully mobile business. Every one of our mobile employees carries a smart GPS tracking device in Charleston, SC. It allows our friendly dispatcher to send your car lockout request to the technician closest to the scene. Once the information is submitted through the system, a professional will contact you shortly! By hiring Charleston, SC car unlocks, and auto key cutting service masters, you can rest assured that your needs will be taken care of quickly. In addition, you don't have to worry about what could happen to your vehicle. Our experienced workers know how to pop locks without causing any damage to your door or window. Don't hesitate to give us a ring at (843) 883-6961.
How Much Does it Cost to Unlock a Car?
Above all, we're known as the most affordable car unlock service serving Charleston, SC, and the surrounding areas. But sadly, we do not provide a flat rate over the phone. This is because there are hundreds of car makes and models, foreign and domestic. Each one has a different approach, which means the price may vary. But fear not! The owner of our company has instructed all the team members to charge a fair price of $19 for the service call. There is no need to think about the price when engaging with us. Most noteworthy, a service call fee is a payment for traveling to your location and estimating a job. So, call us when you're located in Charleston, SC, and request car lockout assistance!